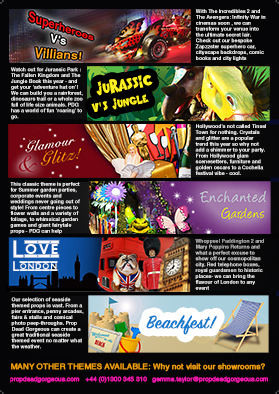 With February now here our clients are already planning their 2018 Summer Events with gusto!
Venues already booked, we often get asked what themes work the best, what are currently 'on trend' and what will deliver the 'WOW' factor without exhausting budgets.
To help with all those questions, Prop Dead Gorgeous have put together a list of top themes for this year.
With so many great films out ranging from Jurassic Park:The Fallen Kingdom, Barbie, Mowgli not to mention numerous Superhero adventures, you wont be short of inspiration if you are organisng a Summer party, team building challenge, beauty event or just a staff give back.
Traditional themes continue to be popular with Carnival, Fairground and Enchanted Gardens at the top of the list along with The Greatest Showman ready to sweep the board for it's slightly weird and 'must see' shock element!
PDG has over 40,000 square foot of showrooms full of all sorts of installations from bespoke showsets, 3d resin models, life sized animals, animatronics, artificial fauna and foliage, event furniture, Christmas grottos and so much more so why not come and visit us for inspiration for your next event
To find out more or book an appointment to view our prop hire showrooms contact: Gemma Taylor on 01300 345310 or email: gemma.taylor@propdeadgorgeous.com