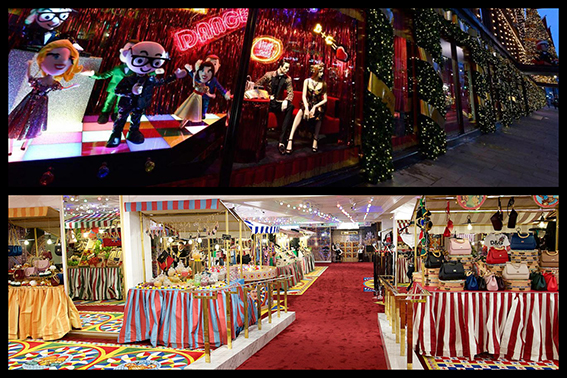 The CAW group is proud to be a preferred supplier to the most famous store in the world- Harrods and Christmas at the world's most famous store Harrods is especially close to our hearts.
Charity events, exciting designer collaborations and private audiences with Father Christmas are just a few of the spectacular events Harrods lays on for the party season.
This year the stores Christmas theme involves a collaboration with Italian super brand Dolce & Gabbana. The designers take the shopper through their own festive Italian Christmas via exciting window displays featuring the duo as Sicilian puppets styling hair, making dinner and handing out gifts to their families!
And there's more on the third floor is a fabulously flamboyant Italian market showcasing Dolce and Gabbana's  latest collections – from personalized hand painted handbags whilst you wait, to customized crystal make up, to a capsule range of women's and menswear.
The display is open until December 28th but in the meantime if you are planning a corporate event, family fun day, retail installation or simply just want ideas for a project you are considering for 2018, then please do get in touch – I would be happy to help.
Then call Gemma Taylor on 01300 345 310 or email gemma.taylor@propdeadgorgeous.com