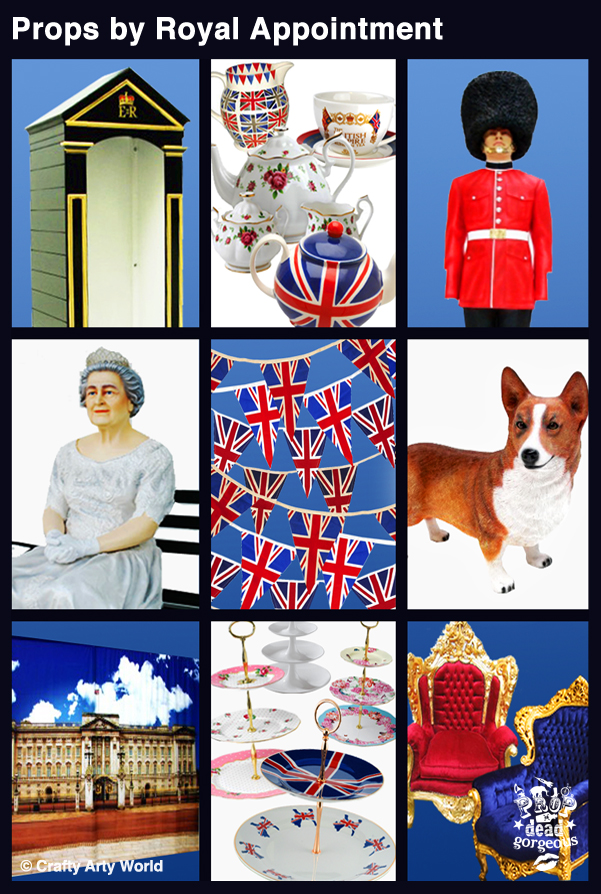 With the Queen's official Birthday today, and then between May 12-15 the Queen's 90th Birthday Celebration Pageant in the private grounds of Windsor Castle, you too can bring a bit of pomp, pageantry and spectacle to your own event – whether it's an office party, corporate family fun day or discerning private party!
How?
By creating a 'Right Royal' theme of course, and that means setting the scene with some great props, dressing and even costumes!
At Prop Dead Gorgeous we are lucky enough to have worked within 'royal circles' so we know whats 'in' and 'what's out' and one thing is for sure… dressing up and 'selfies' are 'in' for sure!
Why not hire our life size Guard models, complete with Centry Post and Backdrop of Buckingham Palace complete with model Corgis, Throne and even Her Majesty herself. Then get your selfie stick out and you're away!
Vintage Tea Dances are all the rage too and we have Bandstands, Bunting, Flags, Flowers, Floral Arbours, Picket Fencing, Gramophone Players, Crockery, Furniture and so much more besides.
If you would like to know more about Prop Dead Goregous prop hire and theming, or would like to visit our showrooms for inspiration, then please mail gemma.taylor@propdeadgorgeous.com