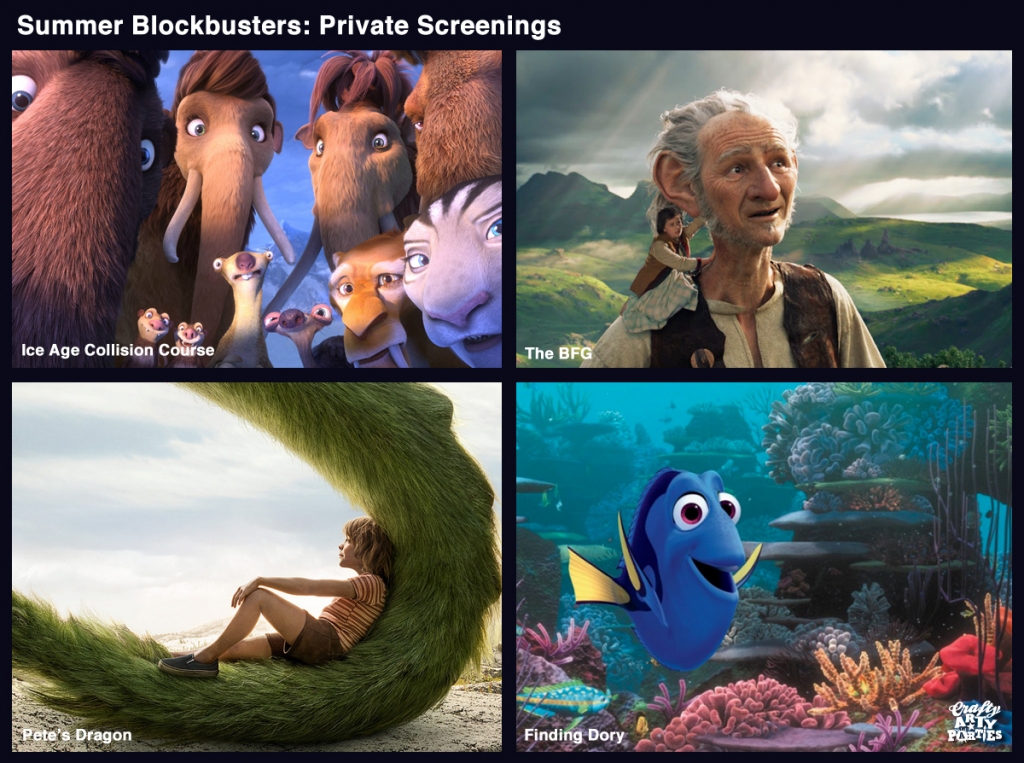 With all the exciting family film releases this Summer, it's been one private screening after the other for Crafty Arty Parties and here are just a few of  some of the Summer's blockbusters we've been involved in!
Ice Age Collision Course, the long awaited chapter in the 'Ice Age' gang's adventures, saw the much loved characters attempt to stop a falling asteroid. Crafty Arty Parties' very own giant woolly mammoth made guest appearances on numerous occasions throughout July, set amongst his towering icebergs and snowy peeks (provided by our theming company Prop Dead Gorgeous), creating the perfect 'scene setter.'
The BFG is Steven Spielberg's adaptation of Roald Dahl's classic 'big softie' giant, and displays incredible technical achievements, with great reviews all round so far. Our enormous 3D foods, chairs, trees and even our giant toothbrush were all rolled out for the red carpet events and provided some great photo opportunities!
Disney Pixar's Finding Dory, one of our favourites, is the much anticipated story of 'Dory' the forgetful blue tang fish, and the search for her long-lost parents. Crafty Arty Parties recently provided pre-screen activities and entertainment for VIP guests and celebrities on the opening weekend with our sister theming company Prop Dead Gorgeous providing a stunning themed backdrop for meet and greets.
Pete's Dragon – the fantasy adventure film is one we cannot wait to see! Our very own life size 'dragon cave' is all packed and ready to go, and we await the film with baited breath… or should we say dragon breath?
For more information on private screenings, pre-show entertainment, prop hire and venues for your corporate event please contact: kitty@craftyartyparties.com